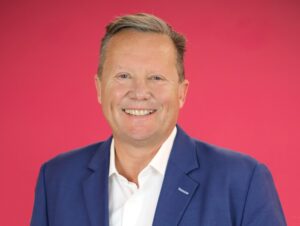 Nick's career spans 37 years in the marketing services sector
A Technology and Print graduate with a BSc. (Hons) in Printing Technology and a Diploma in Marketing, Nick was formally part of the management buy in team that purchased Colorgraphic in 1992 – the largest full-service direct response and direct mail production company in the UK and Europe – successfully transforming the financial performance of the company leading to a sale in 2000 to Big Flower a $2.5bn marketing business on the Nasdaq in the USA. In 2004 he purchased the 310-person strong Howitt, a competitor to Colorgraphic and embarked upon subsequent acquisitions in data and CRM to create the Lateral Group, a firm consisting of over 400 people with 50 people in its data and CRM division, Data Lateral resulting in a sale in 2011 to DST Systems a $3bn New York Stock Exchange listed business.
More recently, in 2016, he purchased and became chief executive of Blueberry Wave, based in Cirencester and London, a customer experience business which offers clients real time strategic CRM, driven by channel planning, data insight and analytics, along with the deployment of customer communication campaigns. After overseeing it's growth and expansion, he later sold the company in 2019 to HH Global, a $1.8bn marketing execution and procurement business.
In 2021 Nick led a successful bid backed by NVM Private Equity group to purchase Edit one of the UK's leading Data Science, CRM and MarTech specialists from Kin+Carta plc. Having successfully grown a number of businesses, Nick joined Edit as CEO in October 2021, purchasing the company with his acquisition vehicle The Salocin Group.
Nick takes a transformational approach to leadership, empowering teams and working to refine people and processes so that they're in a continual state of improvement focused on delivering exceptional customer service and personal progression of colleagues.
Vision for Edit
Growth. With investment and support in the existing proposition, people, and capabilities, Nick plans to grow the company to achieve Salocin's mission statement:
To make a measurable difference to our clients, colleagues and community, through the ethical use of data and technology in marketing